Top 3 Mods for Harley-Davidson Sportster 883
3 min read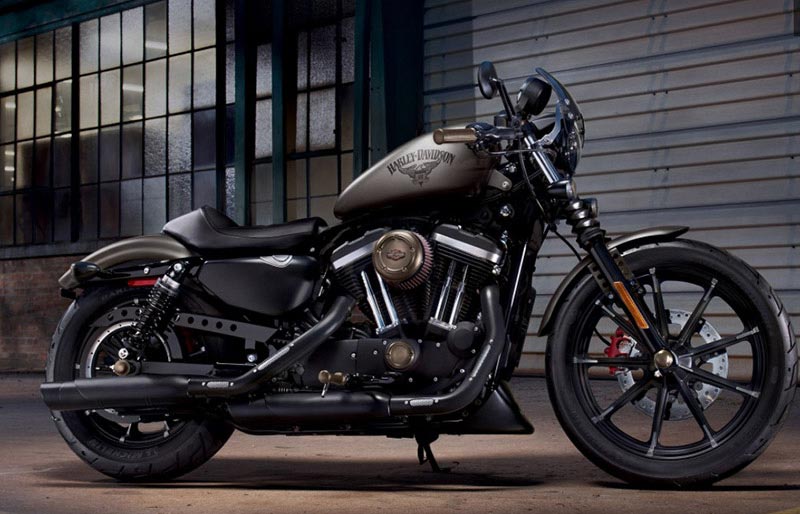 Bikers are always looking for the top products, from cheap motorcycle riding gear to premium aftermarket equipment. Harley riders, on the other hand, rarely look outside the original equipment manufacturer catalog for replacements. The stock components are so good it's hard not to think of the best Harley-Davidson Sportster 883 OEM parts as the best products period. Despite the well-deserved reputation of the legendary automaker, custom bikes show there is some room for improvement on a Harley; at the very least, there's room for personalization. Consider these three mods to bring something extra to your Harley-Davidson Sportster 883:
1. Full Exhaust System
As common as this switch has become, it's still underrated. Swapping out your factory exhaust for a new system is a win-win-win.
First, a performance unit does a better job at evacuating spent gases, increasing the power of your engine. Second, it lightens your machine, allowing your powerplant to accelerate and reach top speed with less effort. The overall effect makes you both faster at the top end and quicker to get there. Finally, you get a better-looking motorcycle. You can match the blacked-out motif of the original design or use chrome pipes as a contrast.
100 bikers might give you 100 different brand recommendations for exhaust systems, but companies such as Vance & Hines, SuperTrapp, and Freedom Performance Exhaust consistently put out exceptional work. Consider color, shape, and weight before choosing the system for your Sportster.
2. Air Intake
While an aftermarket exhaust does increase horsepower, remember it's only half of the puzzle. Imagine a garage cluttered with junk and garbage. It looks better after you clean it out, but now it's just an empty room. Setting up a work bench, tool storage, and repair space lets you take advantage of all that potential.
When you empty the spent gases faster from your engine, the limiting factor becomes how quickly you take in oxygen. High-flow air filters and intakes provide more clean air for your combustion chambers. The greater amount of oxygen allows your powerplant to fire harder, increasing the other side of the power equation. K&N is a classic filter choice, but for a little more style go with Arlen Ness, Roland Sands Design, or Cobra.
3. Handlebars
The controls of your Harley Sportster tend to be polarizing among owners. The stock bars carry the classic lines of brand while providing adequate feel of your vehicle. If they don't suit your ergonomics, there are plenty of excellent options for replacing the originals.
You can purchase inexpensive models, of course, but make sure they're constructed from durable materials such as high-quality steel. As with the exhaust system, most bars and clip-ons are available in multiple finishes to blend or stylishly clash with your paint job. Baron, Wild 1, and LA Choppers are just a few of the superior brands for controls.
After you're done grabbing mods, don't forget about yourself. Outstanding parts let you personalize your machine, but outstanding apparel lets you personalize your look. Turn as many heads as your bike by shopping for street and dirt riding gear and accessories from companies such as Black Brand, Joe Rocket, and Icon.
Frequently Asked Questions
What is the engine size of the Harley-Davidson Sportster 883?
The Harley-Davidson Sportster 883 has a 883 cc air-cooled V-twin engine.
Is the Sportster 883 fuel-efficient?
The Sportster 883 has an estimated fuel economy of around 50 mpg, making it relatively fuel-efficient for a motorcycle. However, actual fuel efficiency can vary based on a number of factors, including riding style and conditions.
Does the Sportster 883 come with any storage options?
Yes, the Sportster 883 features a lockable saddlebag and a luggage rack, providing some storage options for your belongings.
How much weight can the Sportster 883 handle?
The Sportster 883 has a weight capacity of around 300 lbs, including the rider and any luggage.
Is the Sportster 883 suitable for long distance rides?
The Sportster 883 is a versatile motorcycle that can be used for long distance rides. However, it is not as comfortable as some of Harley-Davidson's larger touring models, which may be more suitable for extended periods of time in the saddle. As with any motorcycle, it is important to take breaks and stretch your legs during long rides to avoid fatigue.