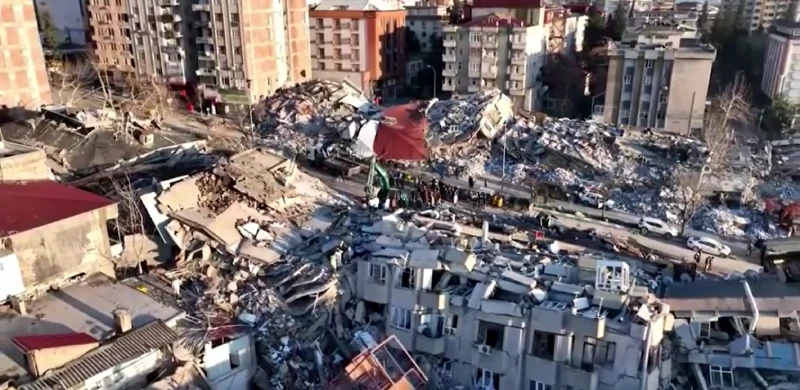 February 20, 2023: The earthquake that occurred on Monday, with a magnitude of 6.3, was centered in the vicinity of Antakya, a city in southern Turkey. Its effects were also experienced in Syria, Egypt, and Lebanon.
Antakya, Turkey: The Turkey-Syria border region was struck by another earthquake on Monday, only two weeks after a larger quake caused extensive damage and more than 47,000 fatalities. The latest quake, which had a magnitude of 6.3, occurred near Antakya in southern Turkey and was felt in neighboring countries such as Syria, Egypt, and Lebanon.
The earthquake's shallow depth of two kilometers could increase its impact at ground level, according to the European Mediterranean Seismological Centre (EMSC).
Witnesses like Muna Al Omar reported the feeling of the earth shaking beneath their feet during the quake. Despite the winding down of the rescue operations, Washington has pledged to help Turkey for as long as needed, with the focus now shifting towards urgent reconstruction and shelter work.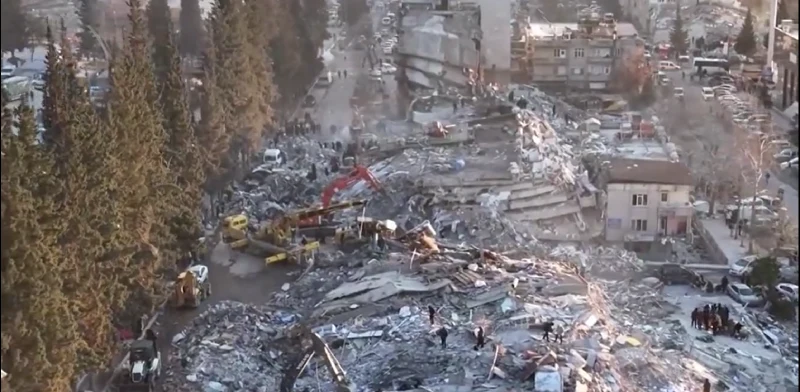 The death toll from the previous quakes has risen to 41,156 in Turkey, with almost 385,000 apartments damaged or destroyed, and many people are still missing. President Tayyip Erdogan has announced that construction work on almost 200,000 apartments in the affected provinces will begin next month.
Meanwhile, the U.N. sexual and reproductive health agency (UNFPA) has called for urgent access to health services for the 356,000 pregnant women among the survivors, with 38,800 of them due to deliver in the next month.
2023 Turkey-Syria Earthquake: A Catastrophic Seismic Event with Far-Reaching Impacts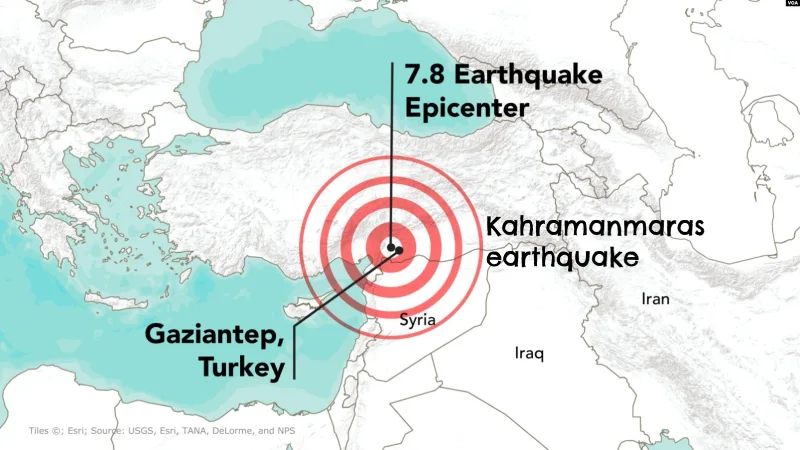 February 6, 2023: At 04:17 am TRT (01:17 UTC), a massive earthquake with a magnitude of Mw 7.8 struck southern and central Turkey, as well as northern and western Syria. The epicenter was located 32.4 km (20.1 mi) west-northwest of Gaziantep, and the quake reached a maximum Mercalli intensity of XI, indicating extreme destruction. Just nine hours later, a second earthquake measuring Mw 7.7 hit the region, with the epicenter located 95 km (59 mi) to the north-northeast in Kahramanmaraş Province. The earthquakes resulted in widespread damage and tens of thousands of fatalities.
In the aftermath of the earthquake, rescue and relief efforts were launched by both governments, as well as international organizations and aid groups. However, the scale of the destruction and the challenging terrain made the recovery process a difficult and lengthy one.
Many homes, buildings, and other structures were destroyed or severely damaged by the earthquake, leaving thousands of people homeless and without basic necessities. In addition, the earthquake caused significant disruptions to transportation and communication networks, further hampering the response efforts.
The human toll of the earthquake was significant, with more than 47,000 of people reported dead or missing and many more injured. The earthquake also had an impact on the wider region, with neighboring countries like Lebanon, Jordan, and Iraq offering assistance and support to Turkey and Syria in their time of need.
Despite the challenges faced in the aftermath of the earthquake, there were also inspiring stories of resilience and cooperation. Local communities banded together to support each other, and international aid workers and volunteers offered their time and expertise to assist with the recovery efforts.
As the affected regions continue to rebuild and recover from the earthquake, there will be important lessons to be learned about disaster preparedness, response, and recovery. The tragedy of the 2023 Turkey-Syria earthquake will be remembered for many years to come, but it is also a testament to the strength and resilience of the human spirit in the face of adversity.
Here are some FAQs for Turkey earthquakes:
What caused the earthquakes in Turkey?
Turkey is located on a major fault line where the African and Eurasian tectonic plates meet. This makes it vulnerable to earthquakes.
How many earthquakes have hit Turkey recently?
Turkey has experienced several earthquakes in recent years, including a 6.3 magnitude earthquake in Antakya on 20 February 2023. A 7.8 magnitude earthquake hit Turkey-Syria on 06 February 2023 followed by another earthquake of magnitude 7.7 after nine hours of first hit.
How many people have been affected by the recent earthquakes in Turkey?
The earthquakes have affected thousands of people, with many losing their homes, and some losing their lives.
What is the government doing to help those affected by the earthquakes?
The Turkish government has launched rescue operations, provided emergency aid, and is working on long-term solutions, such as constructing new housing for those who lost their homes.
Can earthquakes be predicted?
Unfortunately, earthquakes cannot be predicted with certainty. However, scientists can monitor seismic activity and issue warnings when there is a higher likelihood of an earthquake occurring.
What can people do to prepare for earthquakes?
People can prepare for earthquakes by creating an emergency plan, having emergency supplies on hand, securing their homes and furniture, and knowing what to do during and after an earthquake.